Visiting Angels of Cape May is proud of our team of amazing caregivers and the gentle, compassionate care they provide for many of the seniors in our area. As providers of elderly care, we have only one goal; to do everything we can to make it possible for our senior customers to continue living independently at home rather than spending their golden years living in a nursing home or assisted living facility.


Visiting Angels Is Looking for Caregivers to Provide Senior Care in Marmora, Cape May, Elmer, and Cumberland Counties - Including Portions of Salem and Gloucester Counties

Our mission is to provide our elderly clients and their families with the highest quality care, support, and in-home elderly care required. We believe our caregivers are the heart and soul of our home care agency. We expect them to provide the same high level of care as they would a member of their own family. We will never accept anything less.

If you think you have the experience, drive, and skills needed to become one of Visiting Angels of Cape May's caregivers we WANT to hear from you today!
Our Benefits
As a caregiver at Visiting Angels of Cape May, your job comes with an amazing benefits package, including:
Competitive hourly rate of $16-$18/hr and up, depending upon skills and experience
Premium hourly rate for weekend shifts
Time and a half paid for overtime and holidays
Paid Time Off (PTO)
Flexible scheduling - choose the schedule that works for you! Perfect for Nursing and Healthcare students!
Simple IRA (with up to 3% company match)
Monthly employee raffle and gift card reward incentive program
5-Star Progressive Career Ladder
Referral Bonuses - $300 dollars for caregiver referrals
Meaningful work responsibilities and a positive working environment
24/7 support from an award-winning team
Proper PPE is provided to caregivers
To learn more about the benefits of being a personal care assistant with Visiting Angels of Cape May, click here.
Career Ladder
Visiting Angels of Cape May encourages career growth with plenty of opportunities to advance within our agency. With our career ladder, we offer competitive hourly wages, premium weekend wages, referral bonuses, performance-based raises, additional training and certifications, and more. We truly try to set our team up for success!
Our Team of Award-Winning Caregivers Shares Our Passion and Values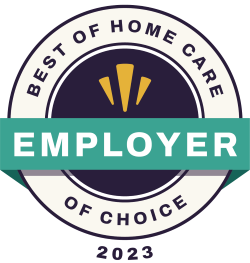 Visiting Angels of Cape May is one of the top senior care agencies in the area. Our agency is one of Home Care Pulse's Employers of Choice for 2021. We have earned this reputation by providing our elderly clients with the finest professional care providers available.
In order to make this happen, we provide our aides with the training and support they need to love their job. This way we know they will always have a positive attitude when taking care of their clients.
Our interview process includes a full background check, previous employment verification, and an extensive interview. Our goal is to ensure you are the perfect match in both personality and skills needed to become part of the Visiting Angels of Cape May team.
Once you have joined the team, we will continue to provide you with the training, certifications, and support you need to become one of our amazing caregivers.
If you are a caregiver looking for a position in Cape May, Marmora, Elmer, or the surrounding area, apply today or call us at 609-604-8176!
Obtain Your Certified Home Health Aide License Through Our CHHA School Program - Ask About Our Tuition Reimbursement!
CHHA Class Sessions Offered Monthly
Class is online Monday through Sunday and requires one day in-person for review and clinicals.
When CHHA classes officially end, there will be a wrap-up session with a review in preparation for your Final test. At this time, you will be able to stop in to pick up your school binder, pay for the class, drop off the items needed below and register and create your account with the Board of Nursing.
Please bring the following items to our office on or before the first day of class, as spots are limited:
Completed Application
One 2 X 2 size Color Passport Photo-Actual (CVS, Walgreens, Walmart)
Birth Certificate
Marriage Certificate (if your last name has changed)
Cash, Check, Money Order or Credit Card for $280.00 written out to "Visiting Angels" or we can set up a payment option too ($100 the first day of class and the balance of $180 is due by the last day of class)
Following the completion of the course, the instructor will help you to complete and submit your online application to the New Jersey Board of Nursing.
Total cost for the class is $280. The cost of the course includes class materials and your $80 Board of Nursing fee. Tuition Is NON-REFUNDABLE, but the license fee is REFUNDABLE.

CNA to CHHA Bridge Classes
Note: You must have an active CNA license to enroll in the Bridge Class
Course Dates - Courses Offered Monthly
Student completes 13 courses. Following coursework completion, the student comes to our office, in Marmora, NJ to take an exam.

The cost of CNA to CHHA Bridge Class is $180
To register or if you have any questions please contact Kirstie Todisco at 609-362-6987 or email kirstie@visitingangelsnj.com for more information.
What's it like to be an 'Angel' with Visiting Angels of Cape May
---
"The company is very reliable, you can believe what they say and they help you through difficult situations. You can call and reach someone any time, someone will always get back to you. They find clients that work with your abilities, people that you are capable of helping. They train you in different areas, such as work with Dementia. They give you certificates for doing well, raise the pay and help you become a better caregiver"
- Roel M.
---

"The training is hands on, we don't just read from a book. I have been with the same client for a year and a half. We get stars put on our badge and they do awards. They understand my personal needs with my children."
- Brittany C.
---
"They are very outgoing and kind people and I am very comfortable with them. I appreciate that they discuss the client with me to see if it would be a good fit."
-Edith G.
---
"They always say thank you to me when I do a good job and the clients will call and tell them that they appreciate me. They give gift cards as well. I like that they care about the employees and the clients. What was helpful was learning to manage your daily work so you can have peace of mind while working with the clients."
- Lineda L.
---
"They are always there to help us with whatever I need."
-Anne C.
---
"They find clients that they know you will be good with and capable to care for."
- Martha K.