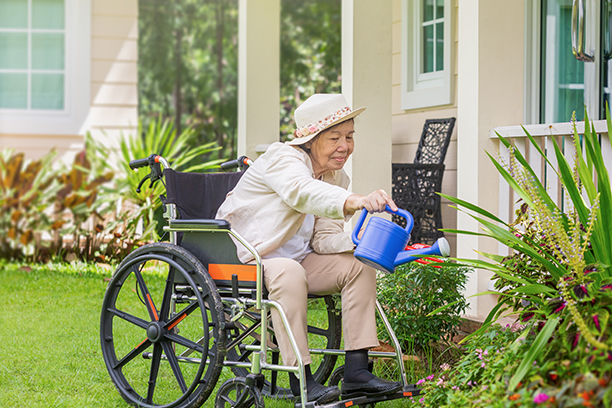 Common Elder Care Questions from Families in Greater Marmora, NJ
At Visiting Angels of Cape May, many of our new clients come to us with lists of questions; they often feel stressed about trying to find the right kind of care for their loved one's unique health needs. Our experienced and knowledgeable care coordinators are always available to you to answer questions and help you understand all the care options that are available to you through our agency.
Families in Elmer and Cape May, NJ, Often Have Many Questions About How Our Elder Care Services Work – Visiting Angels of Cape May is Here to Provide Answers!
If you are considering elder care for a loved one, our answers to these frequently asked questions can help guide your next steps.
What does "aging in place" mean?
You might hear this term from people in the healthcare field or even politicians and economists who are talking about social security, Medicare, and other resources for seniors. It is a popular term because it is one of the most popular options for seniors. Aging in place means spending your golden years in your own home. Visiting Angels of Cape May provides elder care services that can help your loved one stay safe and comfortable at home for longer.
How can you help my loved one?
Our caregivers can help with a wide variety of everyday needs, from meal planning and preparation to medication reminders to transportation. You will build a care plan tailored to your loved one's specific needs that outlines what services a caregiver will provide. Our model of care is called companionship care, which means a dedicated caregiver will work with your loved one to assist, support, and provide expertise, companionship, socialization, and connection.
What if our schedule changes?
As experienced caregivers, we know that needs evolve over time and that schedules, services, and budgets can change. We always center the needs of your loved one, and we will partner with you to make sure that your care plan is the right number of hours with the right level of assistance. If your schedule changes, or if your loved one's needs change, your caregiver and a care coordinator will collaborate with you and your loved one to adjust your care plan and ensure that your loved one's needs are met.
What do I need to set up care for a loved one?
If you are ready to get started with elder care from Visiting Angels of Cape May, your first step is to connect with a care coordinator at our agency. Our coordinator will set up a free in-home consultation with your loved one and yourself. At that consultation, we will start to figure out what tasks your loved one needs help with, what resources they need, and what obstacles they face that we can help resolve. We will also begin to assess the kind of expertise and personality type that will be the best fit as a caregiver for your family.
If you are ready to get started, contact our office today at (609) 545-8258 to learn more about our elder care services and customizable care plans.


Serving Cape May & Cumberland Counties Including Areas of Gloucester and Salem Counties
Visiting Angels
CAPE MAY, NJ
110 Roosevelt Blvd #109
Marmora, NJ 08223
Phone: 609-545-8258
Fax: 609-840-6291