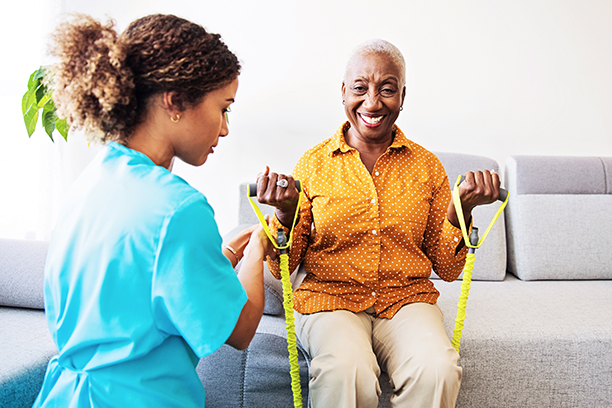 The Benefits of Being a Personal Care Assistant in Marmora, Cape May, Elmer, NJ, or the Surrounding Area with Visiting Angels
Visiting Angels Offers a Wide Range of Benefits to Personal Care Assistants and Caregivers in Marmora, Cape May, Elmer, and Cumberland Counties - Including Portions of Salem and Gloucester Counties
Visiting Angels of Cape May is a leading home care company in Cape May, Marmora, and Cumberland Counties for elderly and disabled people. Visiting Angels of Cape May is always growing and looking for caring and dependable personal care assistants to join our team and assist our seniors with daily activities.

Why should you apply for our personal care assistant positions if you have a multitude of career possibilities as a health aide? For many years, we have given high-quality home care and support with daily living activities to older clients in our community. We also recognize that in order to provide these high-quality services, we must ensure the success of our personal care aides. To do this, we ensure that our caregivers are given the respect, recognition, and pay they deserve.

How We Are Different
Visiting Angels of Cape May offers a lot of benefits to our caregivers and health aides.
Flexible Schedules & Assignments Near Home
Our agency helps seniors throughout Marmora, Cape May, and Cumberland Counties, including Salem and Gloucester Counties. You can choose the assignments that are close to your home. We also offer flexible scheduling, which allows you to create your own schedule around your availability. We strive to give you the hours you want.

Supportive Management
One of the best things about being a personal care assistant Visiting Angels of Cape May is that we provide you with the clear communication, support, and training you need to succeed with us. We make sure that you are well-prepared before you begin any new assignment. We also offer personal care assistants ways to continue their caregiving education and improve their skills over time.
Additional Benefits Exclusive to Visiting Angels of Cape May:
Competitive hourly rate, with paid training
Premium hourly rate for weekend shifts
Time and a half paid for overtime and holidays
Paid Time Off (PTO)
Simple IRA (with up to 3% company match)
Monthly employee raffle and gift card reward incentive program
5-Star Progressive Career Ladder
Referral Bonuses - $150 dollars for caregiver referrals, $100 for client referrals
Meaningful work responsibilities and a positive working environment
Proper PPE is provided to caregivers
CHHA Courses
Apply Now for Immediate Consideration
At Visiting Angels of Cape May, we value our health aides who make our companion and personal care services possible. To become a personal care assistant with our agency, click the button below to apply today.

Serving Cape May & Cumberland Counties Including Areas of Gloucester and Salem Counties
Visiting Angels
CAPE MAY, NEW JERSEY
110 Roosevelt Blvd #109
Marmora, NJ 08223
Phone: (609) 604-8176
Fax: 609-840-6291