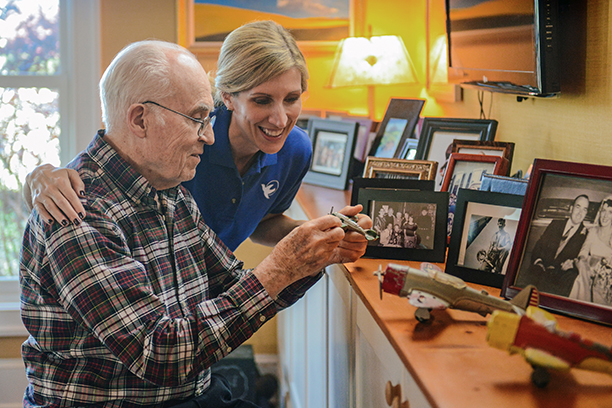 Looking for Affordable Home Care in Marmora, Cape May, Elmer, NJ, or the Surrounding Area?
There are so many questions when it comes to an elderly loved one who needs supportive care services. What is the cost? Can Dad continue living at home? Who is going to jump in and help while I'm at work?
Visiting Angels Offers Affordable Home Care to Families in Elmer, Marmora, Cape May, and Cumberland Counties - Including Portions of Salem and Gloucester Counties
As experts in the field of senior care, Visiting Angels of Cape May understands that you only want the best care possible for your elderly loved ones. This makes finding affordable home care services you can count on vital and Visiting Angels of Cape May is here to help.
We Offer Flexible One on One Care to Seniors
Hundreds of families from Marmora, Cape May, Cumberland County, Salem County, Gloucester County, and the surrounding area turn to Visiting Angels of Cape May for affordable home care. We know that each of our clients has unique needs. Our entire range of in-home senior care services can be customized to meet each client's individual needs to cater to this. We can provide a care specialist for daily visits, respite care, or even temporary care should you need to go out of town for a few days. Our essential care services also make it much easier for you to create a care plan that meets your loved one's needs and your budget.
Some of our care options include:
Temporary or long-term care
Assistance with activities of daily living
Daytime, evening, overnight, 24-hour, or live-in care
Weekday, weekend, or holiday care visits
Making Sure We Always Provide Quality Care
Visiting Angels of Cape May can help seniors continue living independently at home for as long as possible. Along with offering care at home, we also send caregivers to many of our senior clients who live in assisted living facilities. When choosing Visiting Angels of Cape for your loved one's senior care, you can rest easy knowing they are in the hands of one of our compassionate caregivers and that they are receiving superior and affordable home care that meets all their needs.
Because we know that everyone has a budget to work within, we have made our services fully customizable. This lets you decide what essential care services your loved one receives and how much their care will cost. Most of our agencies accept insurance that covers long-term care.
Contact Visiting Angels of Cape May
At Visiting Angels of Cape May, you will find a senior care provider that understands the needs, concerns, and preferences of both you and your loved one. We will work with you to ensure your loved one continues to live a life filled with fun and the joy that comes with being able to continue living at home.
Contact our agency today to learn more about our affordable home care or set up your free, in-home assessment.
Serving Cape May & Cumberland Counties Including Areas of Gloucester and Salem Counties
Visiting Angels
CAPE MAY, NJ
110 Roosevelt Blvd #109
Marmora, NJ 08223
Phone: 609-545-8258
Fax: 609-840-6291