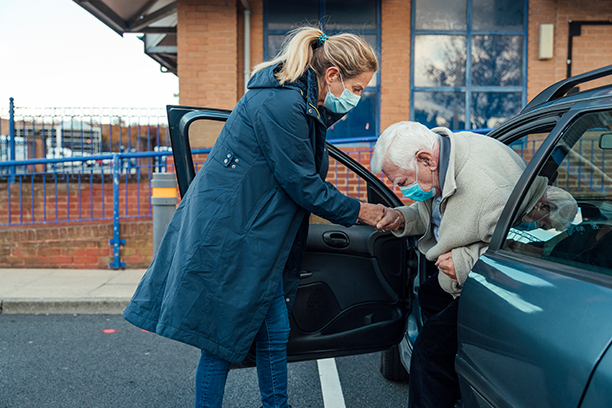 Essential In Home Care Services Throughout Cape May, Marmora, Elmer, NJ, and Neighboring Cities
Visiting Angels Provides In Home Care Services in Marmora, Cape May, Elmer, and Cumberland Counties - Including Portions of Salem and Gloucester Counties
Caring for an elderly loved one so they can remain at home is important work. Many seniors treasure the ability to stay among familiar surroundings. However, it can be difficult to balance work and family commitments with the care of a loved one. This is where one-on-one in home care services from Visiting Angels of Cape May comes in.
Our compassionate elder care professionals are available to help your loved one remain happy and content at home so you can focus on other equally important aspects of your life. You will feel good knowing a knowledgeable caregiver is looking out for your loved one and providing them with joyful companionship. Senior care from Visiting Angels of Cape May provide valuable support which is sure to please your entire family.
Flexible One-on-One Care Plans
The in home care services from Visiting Angels of Cape May come in many shapes and forms. This is because we customize our care to fit the needs of our individual clients. You do not have the same struggles and needs as your next door neighbor, why should your care be the same? Your loved one is a unique individual and our agency sees them as such. You can personalize the senior home care services work for your loved one. Some examples of care we provide include:
Visiting Angels of Cape May Ensures Timely Care
At Visiting Angels of Cape May, we want to make sure our essential in home care services are continually up to our standards. We ensure quality care through regular monitoring. By placing phone calls to your loved one and making occasional home visits, we can make sure they are satisfied with their care. Contact us today at 609-604-8176 to learn more about our one-on-one care services!
Serving Cape May & Cumberland Counties Including Areas of Gloucester and Salem Counties
Visiting Angels
CAPE MAY, NEW JERSEY
110 Roosevelt Blvd #109
Marmora, NJ 08223
Phone: (609) 604-8176
Fax: 609-840-6291