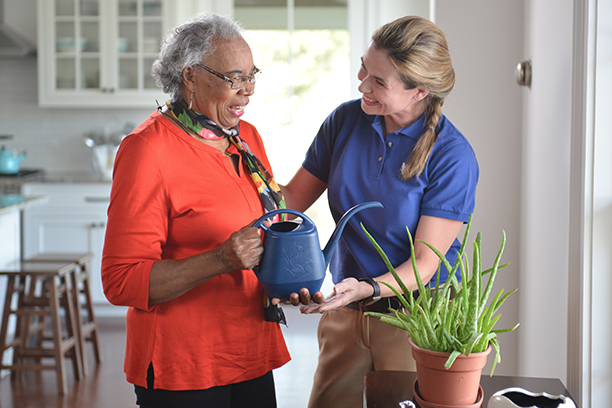 Senior Care in Vineland, NJ
Visiting Angels of Cape May Provides Qualified Senior Care Services to Aging Adults Living in Vineland
Studies have shown that most seniors wish to live at home for as long as possible. However, this can become increasingly difficult as seniors age. At some point, most seniors will experience physical or mental health problems that make living at home alone problematic, if not dangerous. At Visiting Angels of Cape May, we provide in-home senior care services that make it possible for seniors to live at home independently while receiving the care they need throughout their golden years.
Custom Care Services
Care from Visiting Angels of Cape May is different because we understand that no two people require the same kind of care. Every person comes to us with a different health situation. Because of this, we have made all our senior care services completely customizable, meaning that your loved one gets the exact type of care they need.
Our senior care services include:
Care in Vineland
Because many seniors struggle with mobility issues, getting out of the house can be difficult. When seniors spend too much time in their homes, they can begin to feel cooped up, anxious, isolated, and even depressed. However, our caregivers from Visiting Angels of Cape May can provide senior care assistance throughout Vineland.
South Vineland Park
There is so much for seniors to do in Vineland, such as visiting the South Vineland Park. Our trusted caregivers can assist your loved one to this outdoor park to enjoy nature and get in some exercise, as well as meet other people in the community.
Divine Mercy Parish
If your loved one is spiritual or simply looking for some peace and quiet, the Divine Mercy Parish is a welcoming congregation to all. This is a great place for seniors to meet new people while celebrating in prayer.
Inspira Health Center
Of course, our dedicated staff can also take your loved one to the nearest hospital or medical center, such as the Inspira Health Center in Vineland. Our caregivers can offer transportation to doctor's appointments or to the hospital in case of a medical emergency.
Getting Started
If you have a loved one who is having a difficult time living at home on their own, it is not too late to reach out for help. Contact our agency today by clicking one of the buttons below and ask about how our senior care services from Visiting Angels of Cape May can help your family.
Serving Cape May & Cumberland Counties Including Areas of Gloucester and Salem Counties
Visiting Angels
CAPE MAY, NJ
110 Roosevelt Blvd #109
Marmora, NJ 08223
Phone: 609-545-8258
Fax: 609-840-6291