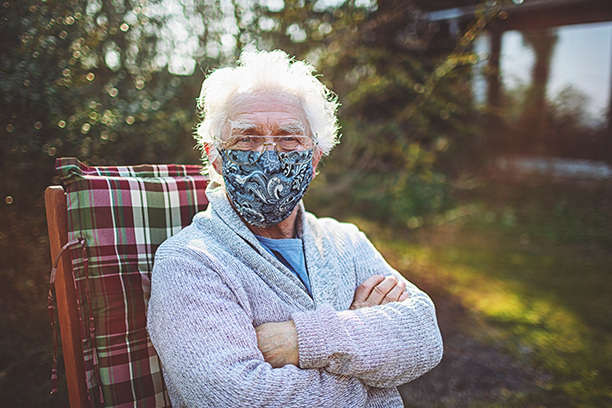 Comprehensive Dementia Care Solutions in Cape May, NJ
Visiting Angels provides comprehensive dementia care solutions in Cape May, NJ, and the surrounding areas.
Our caregivers are trained to provide a wide range of dementia care services for seniors in the early, mid, and late stages of dementia. These services are intended to assist seniors with dementia, allowing them to remain at home or with a family member. Dementia is more common than you think.
Did you know:
1/3 of seniors die from Alzheimer's or dementia, and Alzheimer's and dementia deaths have increased by 16% during the COVID-19 pandemic.
Nearly 60% of Alzheimer's and dementia care partners rate the emotional stress of caregivers as high or very high and had $9.7 billion in additional health care costs of their own in 2014.
About one-third of all people aged 85 and older may have Alzheimer's disease.
The number of people with dementia doubles about every five years beyond age 65.

What is dementia?
Dementia is a general term for loss of memory, language, problem-solving and other thinking abilities that are severe enough to interfere with daily life. Alzheimer's is the most common cause of dementia. Alzheimer's is among the top 10 causes of death in America. It cannot be prevented, cured, and is progressive.
Assessing your family members' needs
In the first step, the trainer will assess the client's stage of dementia, all while creating positive support to enrich the environment, situations, and interactions and increase comfort in the home. This support alleviates distress and a sense of failure, allowing the client to continue to live successfully at home.
Our dementia care solution includes Envoy at Home, a motion-sense monitoring system that allows digital caregiving 24/7, and a tablet to promote dementia care engagement solutions for families and home care providers.
Caregiver training
Our CHHAs are trained through the Teepa Snow Positive Approach to Care (PAC) program by our own Certified Dementia Trainer. Further, if your loved one has spent time in a hospital or in skilled nursing care, Visiting Angels schedules training sessions with the client, the care partner, the physical therapist, and the occupational therapist. These sessions improve safety in the home after discharge.
Monitor progress and supervision
Once home, a formalized care plan is developed and monitored via supervisory visits with our registered nurse and client care manager. This care plan helps track compliance and progress via documentation to ensure we provide the best services! We also have great tools that allow your family to check updates anytime.
Meet our certified independent dementia consultant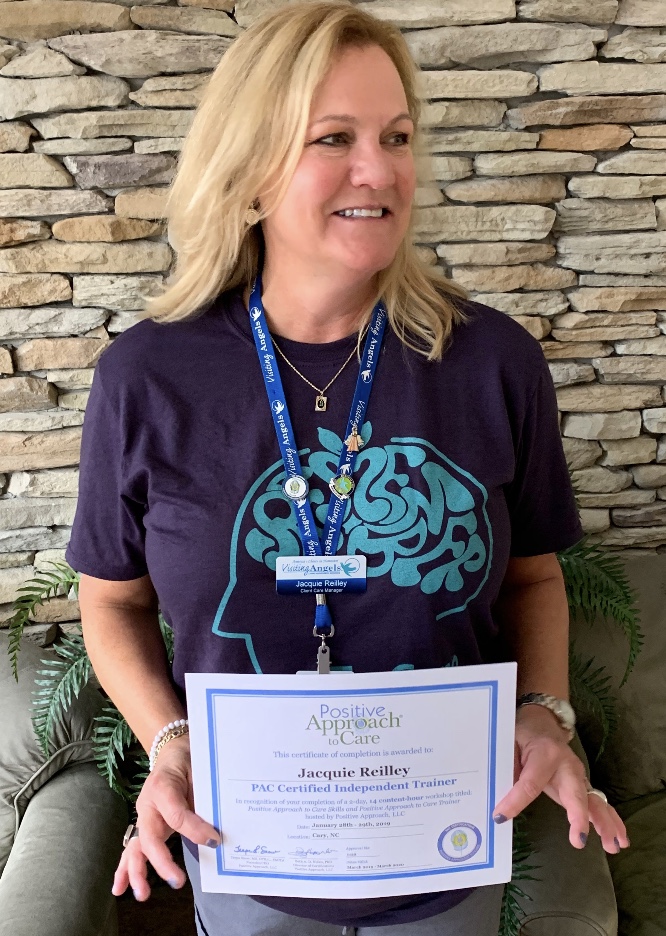 Jacquie Reilley started with Visiting Angels as a CHHA in 2016, working with a client who was like a grandmother to her. In time, Jacquie noticed an increase in short-term memory loss and a lack of hygiene. Her client was showing signs of frustration that Jacquie had never witnessed before. Jacquie had little understanding of the disease or how to provide care for this beautiful person living with dementia.
Jacquie's career path
In 2019, Jacquie went for training to become a Certified Independent Trainer for dementia care through Teepa Snow's program, Positive Approach to Care (PAC). Jacquie is now holding workshops for her care partners to become certified in dementia care! This training consists of a 3-part workshop:
"Normal Aging of the Brain" vs. "Not Normal Aging of the Brain."
Positive Physical Approach to Care (where hands-on skills are taught to help with the physical needs of all stages of the disease).
Gems—a cognitive model which helps families and care partners identify the progression of the disease and the behavioral changes that they may be experiencing
Being trained and certified as an independent dementia consultant allows Jacquie to help counsel and advise families and others to work through dementia-related challenges. Our trainer uses effective communication techniques and strategies to help connect with clients in a meaningful way, providing the right resources at the right time.
Modern technology and dementia care
Jacquie uses tablets with some of our dementia clients, working with co-founders of a company called Generation Connect. The tablet is formatted with personal music, photos, games, and videos that care partners use to engage with their clients. Personalized music proactively provides mood enhancement, sparks memories, and decreases agitation. Families are encouraged to share photos that can initiate conversations even if the person living with dementia does not recognize the people.
Games are available for the care partner to play with their client, creating great fun and engagement time. A big plus with the tablet is that the care partners can post moments and pictures of how seniors spent their day, highlighting the times of engagement and reminiscing, which goes out to the family members to stay connected to the care.
Contact our team
We offer free in-home dementia care assessments at Visiting Angels of Cape May to assist us in determining what services are needed. One of our caregivers will come to your or your loved one's house and collaborate with you to develop a care plan tailored to your loved one's preferences, lifestyle, and requirements. We even allow you and your loved one to select a home care specialist that matches their personality and meets their needs. Contact Visiting Angels of Cape May today to learn more about our services in Marmora, Cape May, and the neighboring areas and schedule your free in-home assessment and click the link below to download a copy of our dementia care solutions.

Serving Cape May & Cumberland Counties Including Areas of Gloucester and Salem Counties
Visiting Angels
CAPE MAY, NEW JERSEY
110 Roosevelt Blvd #109
Marmora, NJ 08223
Phone: (609) 604-8176
Fax: 609-840-6291