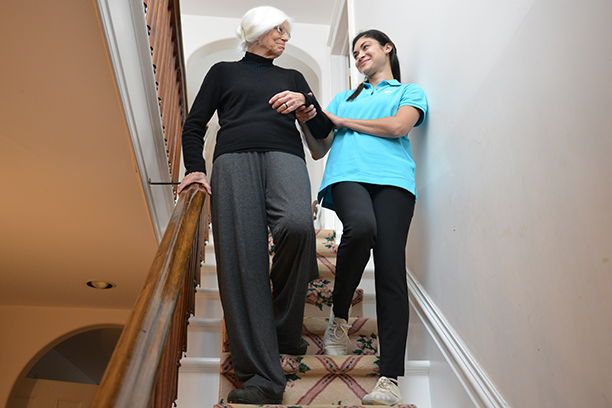 Professional In-Home Care in Saluda, VA
Visiting Angels, NNMP provides personalized in-home care solutions for seniors in Saluda, VA
Visiting Angels is an industry-leading senior care provider and we have been assisting older adults living in Saluda, VA for a long time now. We believe in the work we do and take pride in helping seniors maintain their independence. This is particularly important for us as we are a locally owned and operated business. We are deeply involved in the Saluda community and care about what happens to our seniors who may not have the support system in place that they need to live their best lives. We are here to help.
How In-Home Care Helps Seniors in Saluda
If you or your loved one are considering in-home care, check out some of the services we are offering area seniors in Saluda, VA:
Personal Care: If your loved one is having difficulty with caring for themselves, our caregivers can provide the in-home care they need to stay happy, healthy and comfortable. Our personal care services include meal preparation, assistance with bathing and grooming, mobility assistance, incontinence care, light housekeeping and more.
Companion Care: At Visiting Angels, NNMP, we understand that the need for social interaction is important for seniors who live independently. Our caregivers can help your loved one avoid isolation by providing meaningful conversation, transportation and even accompaniment to the Middlesex County Museum and Historical Society.
Certified Palliative Care: This is a line of specialized, non-medical care. Our certified palliative care is provided by caring and compassionate professional and always goes above and beyond the services other agencies offer. We are helping area seniors live independently, regardless of their medical condition.
Ready – Set – Go Home: Unfortunately, many seniors do have to spend at least some time in the hospital or rehabilitation facility. For these seniors, it is important that they recover quickly and avoid going right back. That is a major possibility with professional transitional care from our Ready – Set – Go Home program.
Social Care: We help seniors stay in touch with their friends, family and other loved one throughh the use of modern technology, including social media and apps like Skype. This has helped many older adults feel less lonely and even combat feelings of depression.
Dementia and Alzheimer's Care: Dementia and Alzheimer's Disease affect hundreds of thousands of seniors across the country. Many family members begin caring for their loved one and find that they are not able to keep up with the demands of the disease. However, this does not mean they have to move to a nursing home or assisted living facility. Your loved one is safe in our hands.
End of Life Care: The final stages of our lives are always difficult. But, there is a lot we can do to make this natural process easier on seniors and their family members. We do so as part of our end of life care services.
Fall Prevention Program: We can fall-proof your loved one's home to make sure they are staying safe throughout the day.
To find out more about our in-home care services, please call our Kilmarnock, VA office today.
Serving Kilmarnock, White Stone, Heathsville, Saluda, Urbanna, Tappahannock, Gloucester and The Surrounding Areas
Visiting Angels
NORTHERN NECK-MIDDLE PENINSULA VIRGINIA
68 S Main St
Kilmarnock, VA 22482
Phone: 804-435-2229
Gloucester 804-695-2889
Fax: 888-262-0951