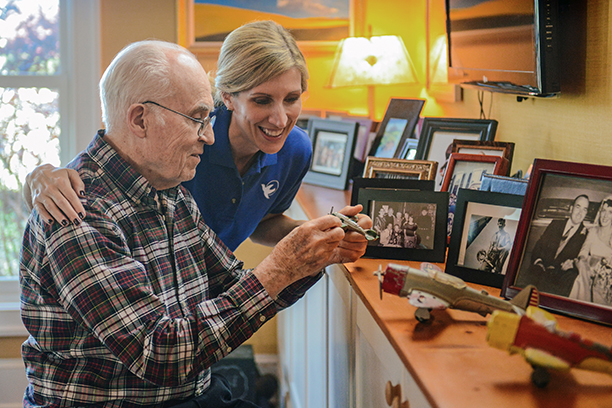 Home Care in Essex County
Finding peace of mind when a loved one is growing older starts with finding a home care solution you can trust. If someone dear to your heart needs support at home in Essex County, you can turn to Visiting Angels® Northern Neck-Middle Peninsula to set up personalized care and assistance.
We are a home care agency under local ownership and operation, and we have worked to build trusting relationships with families in our community. We understand that each family's situation is unique, and we go the extra mile to ensure the care we offer is customized according to specific preferences and circumstances.
Our mission is simple. We want local seniors to have the opportunity to live in the place of their choosing and thrive as they grow older. We are proud to offer home care that is relied upon by families who reside in:
Essex County
Burgess
Deltaville
Kilmarnock
Merry Point
Urbanna
Wicomico Church
Gloucester County
Lancaster County
Middlesex County
Northumberland County
Richmond County
We have built a reputation for reliable care thanks to our exceptional team of caregivers. Each of our care providers was initially hired because of their outstanding warmth, caregiving abilities, and clear commitment to helping seniors live life fully. Additionally, our care providers have undergone a strict screening system to provide added peace of mind for local families.
Understanding Home Care in Essex County
A number of basic activities can become difficult or even dangerous as we grow older. Along with wisdom and experience, age can bring hardships such as mobility limitations, cognitive disorders, and a lack of coordination. We help address these challenges by providing local seniors with dedicated support that enables them to go about their daily routines in a safe and comfortable fashion.
Our range of home care services is vast. Some of the commonly requested services we deliver are:
Reminders to take prescriptions
Safe transportation to appointments throughout Essex County
Social interaction and joyful conversation
Meal planning, grocery shopping, and cooking
Basic household chores and light housekeeping
Short-term support for family caregivers
Help with taking a shower and getting dressed
We know your loved one's care needs are constant, which is why we provide support at any time of the day or day of the week. You can easily build a schedule of care visits that suits your loved one's preferred daily routine.
The Process of Getting Started With Care in Essex County
We have a simple process in place for setting up care, enabling you to approach this task with confidence. Moreover, we offer our expert guidance every step of the way. Here's what you can expect:
An initial conversation over the phone. Let us know you're interested in care by contacting our office. We can provide you with general information and help you book a more in-depth consultation.
A consultation free of charge. We will meet with your loved one and the family members most involved in their care. The discussion will cover their daily needs, your family's preferences, and any questions you have.
Development of a care plan. We'll draw up a care plan customized to your loved one's unique circumstances. This care plan will be built with the help of your input and can be adjusted to accommodate new needs over time.
Selection of a home care provider. Finally, we'll find the right caregiver for your loved one. We pride ourselves on making excellent matches that take into account seniors' personalities and lifestyle preferences to promote a meaningful relationship.
As you get to know more about our approach to home care, you'll find that we offer different care types to accommodate the many needs elderly adults face in their journey of aging. Below, we've laid out some of the various care programs and adjustable care types we can provide.
Companion Care in Essex County
Sometimes, seniors simply need a shoulder to lean on and someone to talk to. For clients who do not require direct physical support but do need companionship to keep senior isolation at bay, we offer compassionate companion care services.
Personal Care in Essex County
Seniors frequently find it difficult to complete activities that require mobility, balance, strength, and coordination. These activities are often essential to their overall well-being and play an important role in their daily routines. We provide personal care services that can take the form of assistance with getting dressed, bathing, grooming, and general mobility.
Respite Care
As a family caregiver, you may find that some days you feel completely exhausted. If this is becoming increasingly common, you could likely benefit from a much-needed break. When you get started with respite care, you can arrange to have a care professional manage your responsibilities while you take time off for self-care or to handle responsibilities in other areas of your life.
Dementia Care
Elderly adults with dementia often face challenging symptoms, risks, and circumstances. However, these challenges shouldn't prevent them from living in the comfort of home. Our dementia care providers offer the specialized assistance seniors need to cope with dementia while remaining in familiar surroundings.
Alzheimer's Care
We offer dedicated Alzheimer's care that supports elderly adults throughout the various stages of Alzheimer's disease. We understand that Alzheimer's and dementia are not one and the same, and our Alzheimer's care services address the unique aspects of this disease.
Safe & Steady Fall Prevention
Because falls account for some of the most serious injuries seniors experience, fall prevention is essential to maintaining an independent lifestyle. This program offers personalized home safety tips and fall risk assessments to help seniors stay safe at home.
Ready, Set, Go Home Care
Transitional care focuses on the transition from hospital to home and the recovery process that unfolds after a hospital discharge. Through the Ready, Set, Go Home transitional care program, our caregivers work to minimize clients' risk of readmission so they can continue aging in place for as long as possible.
Get Started with Home Care in Essex County Today
Take the first step to set up home care in Essex County. Call Visiting Angels Northern Neck-Middle Peninsula at (804) 435-2229 today to learn more!

Serving Kilmarnock, White Stone, Heathsville, Saluda, Urbanna, Tappahannock, Gloucester and The Surrounding Areas
Visiting Angels
NORTHERN NECK-MIDDLE PENINSULA VIRGINIA
68 S Main St
Kilmarnock, VA 22482
Phone: 804-435-2229
Gloucester 804-695-2889
Fax: 888-262-0951