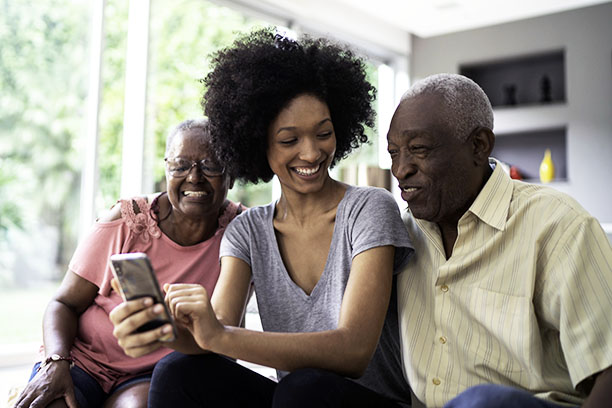 Our Elder Care Agency Can Reduce Social Isolation in Springfield, MO and the Surrounding Areas
At Visiting Angels of Springfield, we understand that a holistic approach is the right way to care for your loved one. Our elder care agency's services include caring for them both inside and outside of their home.
Reducing Senior Isolation with Our Elder Care Agency in Springfield, Nixa, Ozark, Republic, and Surrounding Areas
Our social care program can help families continue to be connected using modern technology. We use Skype, FaceTime, Facebook, and more to help your loved one remain active and engaged.
Recent Studies for Social Senior Care
Using the internet has been shown to help seniors quite a bit. In fact, a recent study showed that surfing the internet can help reduce depression in seniors by as much as 20%. This helps them live a much happier life and helps them enjoy their time more.
Another study, done by the University of Arizona found that seniors who use social media websites like Facebook showed an improvement of around 25% in their working memory. They're able to remember things better and are able to recall their memories significantly better than if they did not use social media.
A study also measured breathing rates, brain stimulation, and pupil dilation while seniors were using social media websites like Facebook. This study showed that visiting these sites can provide a positive emotional experience. Overall, seniors can benefit greatly from the ability to use the internet, especially social media websites, through the exploration of their interests and contacting loved ones easily.
What Our Social Care Program Teaches
At our elder care agency, our one-on-one home care is designed to teach your loved one a variety of techniques they can use to boost their experience online, helping them improve their memory and their happiness.
Some of the skills we teach include the following:
Using a cell phone – We can help your loved one learn how to make calls on their cell phone so they can call you whenever they want.
Using text, emails, Skype, or another program to send messages –We'll help your loved one learn how to use text, emails, Skype, and other programs to be able to easily send messages to family or friends.
Creating and using a Facebook account –We can help your loved one use social media websites like Facebook to keep on top of everything happening with their friends and family and help them update everyone on their current life and what they're doing.
Shopping online– Shopping online makes it easier for your loved one to purchase items they may need, and we can teach them how to shop online to do so safely.
Using a search engine –Our elder care agency can help show your loved one how to use a search engine to research more information about topics they're interested in.
Learn More About Visiting Angels' Social Care Services Today
At our elder care agency, we strive to provide your loved one with the essential home care services they need in their own home. With our holistic approach, we do more than just provide basic care. We also help teach them new skills, such as how to use modern technology, to ensure they are happy. Contact Visiting Angels of Springfield today at 417-863-8006 to learn more about our one-on-one social care programs.
Contact our elder care agency today to learn more about how our caregivers can assist!


Serving Springfield, Nixa, Ozark, Republic, Branson, Hollister, MO and the Surrounding Areas
Visiting Angels
SPRINGFIELD, MO
1259 E Republic Rd
Springfield, MO 65804
Phone: 417-863-8006
Fax: 417-863-1860