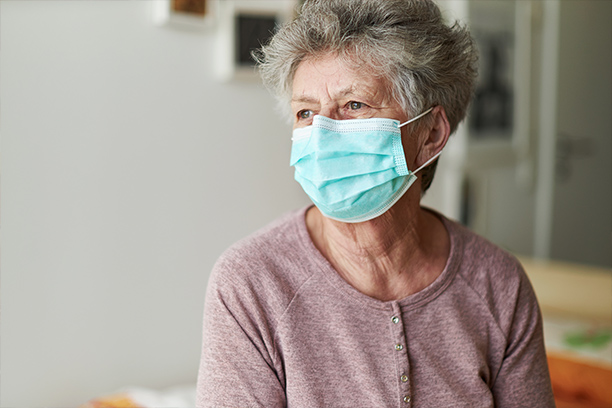 Elderly Companion Services for Cognitive Decline in Greater Bangor, ME
Visiting Angels Mid Maine Offers Elderly Companion Services to Help Seniors with Cognitive Decline in Bangor, Lewiston, Brewer, and Surrounding Areas
Many thoughts go through your mind when you first learn that a loved one has been diagnosed with Alzheimer's, dementia, or another cognitive disease.
Is your loved one safe in their daily life?
How can you help them maintain their health for as long as possible?
Will they have to leave their home and community?
At Visiting Angels Mid Maine, we know there is nothing more important than family. That is why we are proud to support your family in empowering your aging loved one to live safely, healthily, and comfortably while remaining independent and in their own home.
Flexible and Personalized Care for Your Specific Needs
Just like any other health diagnosis, the severity of your loved one's diagnosis and its impact on your loved one will determine the kind of care that is needed. At Visiting Angels Mid Maine, we offer elderly companion services for those with Alzheimer's or dementia diagnoses that can help your loved one remain comfortable at home for longer. More than 5.1 million Americans face Alzheimer's every day with the help of family, friends, community, caregivers, and other home care services.
Daily Support
Elderly companion services from a caregiver can be completely customized around the need for memory care. A dedicated caregiver will work to develop a trusted and respectful rapport with your loved one through one on one assistance and collaboration. That caregiver can assist with meal preparation, mobility needs, laundry and linens changing, light housekeeping, personal care, and much more.
Emotional Support
Your loved one's memory care needs might include emotional support services, help with a hobby or project, or companionship while looking through photo albums and mementos. You will always receive an update from your loved one's caregiver with a wellness check and your loved one's health status.
A Visiting Angel can also help them maintain a daily schedule, with regular meals, rest and activity times, hydration breaks, and oversight for your loved one's medication regimen. This kind of daily routine can help your loved one maintain better mental and emotional health, increase feelings of safety and stability, and supports stronger well-being in the long run.
Learn More Today
If you are helping to care for a loved one with Alzheimer's or dementia and concerned about their safety while living independently, Visiting Angels Mid Maine is ready to help. Call our agency today at 207-605-8288 to learn more about our elderly companion services for cognitive decline.
Serving Bangor, Brewer, Hampden, Orono, Old Town, and the Surrounding Area
Visiting Angels
MID MAINE
444 Stillwater Ave,
Bangor, ME 04401
Phone: 207-605-8288
Fax: 207-573-1863